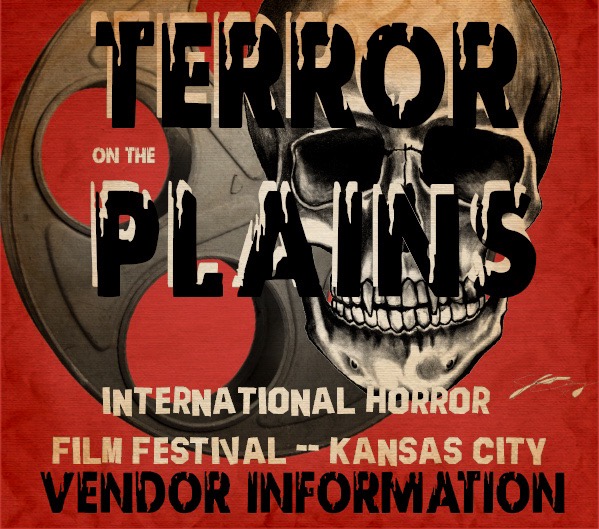 VENDOR INFORMATION
General Information
Please read in full before applying to be a TERROR ON THE PLAINS vendor. All vendor tables sales are final. No refunds. Sorry.
Your booth does not need not be "horror and/or movie themed" to participate in the TERROR ON THE PLAINS INTERNATIONAL HORROR FILM FESTIVAL. Our patrons are just like you. They need insurance, watch movies, read books, wear jewelry etc., love tattoos, etc. One of the purposes of TERROR ON THE PLAINS is to bring the community together under our umbrella and share what we love with each other.
You can use your space however you like, however there are a few rules, see below. If you need a table, please indicate on the application. If you need electricity, let us know on the application. Please, no generators.
WE ARE NOT ABLE TO ACCEPT APPLICATIONS FOR FOOD TRUCKS THIS YEAR. APOLOGIES.
Event Location Info:
1051 Merriam Ln.
Kansas City, KS 66103
NOTE: The Boulevard Drive-In is the host sponsor of our event. If you have any questions about Terror on the Plains, the short film competition, being a sponsor or vendor, email Tim English at (tim@terrorontheplains.com).
Notes
Vendors may begin setting up on the Boulevard grounds at 5 PM on both Friday, Sept. 27, and Saturday, Sept. 28.
You must begin tear down no later than the end of the second movie both Friday and Saturday.
You are not able to leave your booth, etc. overnight on Friday because of a Swap and Shop at the Drive-In on Saturday morning. No exceptions.
You will receive two passes per booth space purchase. Additional passes may be purchased. Contact Tim@terrorontheplains.com.
Rules
All rules and regulations as stated below.
All vendor/exhibitor tables/spaces must be manned at all times. Vendors will be provided with a wrist band/Pass when they arrive. Vendors MUST wear this to move around the convention. If you lose it or take it off, you will have to pay for another. When you arrive at the convention, you (and the other people running your booth) will individually check in with a TERROR ON THE PLAINS staff member. See bottom for details about vendor passes.
All vendors/exhibitors agree to hold blameless TERROR ON THE PLAINS and the BOULEVARD DRIVE IN staff members, workers against any loss, damage, theft, expenses, claims or actions arising from any personal or property damage, loss or theft due to said vendors/exhibitors participation in the TERROR ON THE PLAINS INTERNATIONAL HORROR FILM FESTIVAL.
In addition, all vendors/exhibitors acknowledge that TERROR ON THE PLAINS staff members, workers; and host hotel entities, employees and agents, will NOT provide or maintain insurance coverage for vendors/exhibitors persons or property, and it is their sole responsibility to obtain insurance covering such loss.
TERROR ON THE PLAINS in no way endorses any vendors/exhibitor's merchandise, exhibits, views, beliefs, or actions. All vendors/exhibitors are deemed to be their own business/entity and in no way reflect the views, beliefs, intentions and/or direction of TERROR ON THE PLAINS. Vendors/exhibitors do not representTERROR ON THE PLAINS INTERNATIONAL HORROR FILM FESTIVAL in any way.
All merchandise bought or sold at theTERROR ON THE PLAINS INTERNATIONAL HORROR FILM FESTIVAL is done strictly between vendors/exhibitors and attendees/buyers, – TERROR ON THE PLAINS is not party to or responsible in any way for any transactions made between said parties.
No pornographic, illegal, stolen or copyright infringed merchandise please. Please email Tim English (tim@terrorontheplains.com) with questions on whether your merchandise is acceptable. Violation of this may result in vendor being asked to leave and there will be no refunds of vendor space purchase.
All tables/spaces will be reserved on a First-Paid, First-Serve Basis. Due to the popularity of the TERROR ON THE PLAINS, we strongly suggest you reserve and pay for tables right away because they will sell out quickly.
NOTE: No tables/spaces will be reserved until payment is made.
Festival Passes
Please read the following vendor badge policy and make sure you understand it and agree to it before becoming a vendor.
Vendors will get 2 Vendor Passes with every table they purchase. This means that TWO PEOPLE will get ONE vendor pass EACH. Example: If you have 2 extra people coming to help you throughout the weekend (besides the two passes you have), then you need to buy 2 passes.
There is a limit of 3 extra discounted passes for each table purchased. If you need more helpers than that, they can buy a regular priced per day ticket. Extra Vendor Passes may be purchased. Email Tim English (tim@terrorontheplains.com) about acquiring extra vendor passes.
Names of all vendor staff will be provided at check in at the convention.